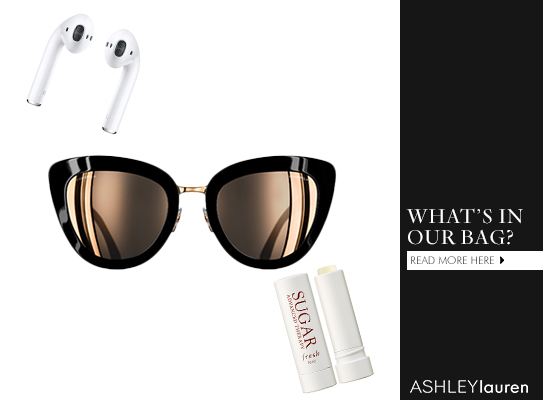 We don't know the last time we went somewhere without our purse… and didn't instantly regret it. Some days it seems like our bag is weighing us down (actually it is literally weighing us down… when did it get so heavy?) but when our face seems oily or our hair is a little frizzy, we're happy we packed the essentials. So, we polled the office and came up with a list of 10 products we don't leave home without and are sharing them with you. Get your bags ready!
#1: Sunnies
Never leave home without a great pair of sunglasses. Why you ask? Because they always have your back. Didn't get enough sleep but run into your crush? Sunglasses. It's Monday and you aren't wearing makeup but found the perfect selfie lighting? Sunglasses. You are exhausted and plan on napping in the Uber? Sunglasses. See what we mean?
Shop Now: Chanel
#2: Oil Control Blotting Sheets
Oily skin can sneak up on you with absolutely no warning… so carry blotting sheets. Our favorite? The black charcoal blotting linens from Boscia. These little sheets are a lifesaver.
Shop Now: Boscia
#3: Headphones
Because music is good for the soul.
Shop Now: Apple
#4: Charger
Every time we are out there is always one person searching frantically for a charger. Don't be that person – keep a portable charger on you at all times.
Shop Now: Mophie
#5: Dry Shampoo
We always keep a mini bottle of dry shampoo close by because you never know when you'll need to date night ready in 30 minutes or less. This will revamp that 2 day old blow out in no time.
Shop Now: Amika
#6: Hair Elastics
We have no idea how people make it through a work week… or day for that matter… without a hair elastic.
Shop Now: Tasha
#7: Mints
Everyone deserves fresh breath but you can't always chew gum. Therefor, mints!
Shop Now: Ice Breakers
#8: Lip Balm
How does anyone make it through the day without lip balm? Having chapped lips without lip balm might be one of our worse fears.
Shop Now: Fresh
#9: Business Cards
Because a woman on the go is a working woman on the go. Get yourself one of these adorable business card holders. Not only are they super cute but you'll look super professional when you hand one out!
Shop Now: Kate Spade
#10: Cash
Yes, almost everything can be paid for with your credit card – but you never know when you'll need cash. All of us recommend keeping a $20 bill hidden in your purse for those mini emergencies.
Photo credit: Amazon