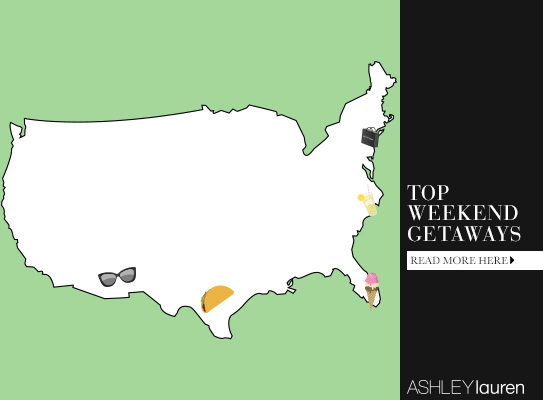 We believe you should always make time for a vacation… or at least a weekend getaway. Whether you are in need of a ladies weekend or a romantic getaway, we've got you covered. Now get that carry on packed and request an Uber – you're airport bound.
Austin, TX
Photo Cred: austintexas.org
If food trucks and live music are more your thing, head to Austin. Austin has a little bit of everything. We recommend spending the morning hiking or exploring a natural swimming spring, spend the afternoon indulging in BBQ and world renowned Tex Mex and spend the evening at one of the many local theaters listening to live music. And don't forget – did you really go to Austin if you didn't post a picture in front of one of the many Instagram-famous murals? We didn't think so either. You can find a complete list of murals here.
Charleston, SC
Photo Cred: magnoliaplantation.com 
Start your weekend in Charleston by walking through the historic downtown and take in the old houses covered in ivy. We then recommend visiting Magnolia Plantation and Garden where the vast gardens are sure to take your breath away. At night catch a show at the Charleston Music Hall or try one of Charleston's many restaurants.
Tucson, AZ
Photo Cred: visittucson.org
You can't go to Tuscon without spending some time exploring the desert. We recommend visiting the Senora Desert Museum to walk the desert and visit the botanical gardens. After that head downtown and spend the day shopping, eating and drinking with the locals.
Miami Beach, FL
Photo Cred: miamiandbeaches.com
Spend a relaxing weekend sunbathing on Miami's beaches while indulging in their well known restaurants — Click here to see our favorites! Spend the last day of your mini getaway walking Lincoln Road Mall where you can shop, eat, drink and shop some more.
New York, NY
Go ahead – indulge in pizza and bagels and shop til you drop. After all, isn't that what you're supposed to do in New York City? Check out some of our favorite restaurants here. Don't forget to catch a show and spend a night on the town while in the big city. And remember… it's okay to act like a tourist! After all, we know the Empire State Building is calling your name.
Now that your weekend getaway is planned – get packing! Click here to read our Weekend Getaway Packing Guide!