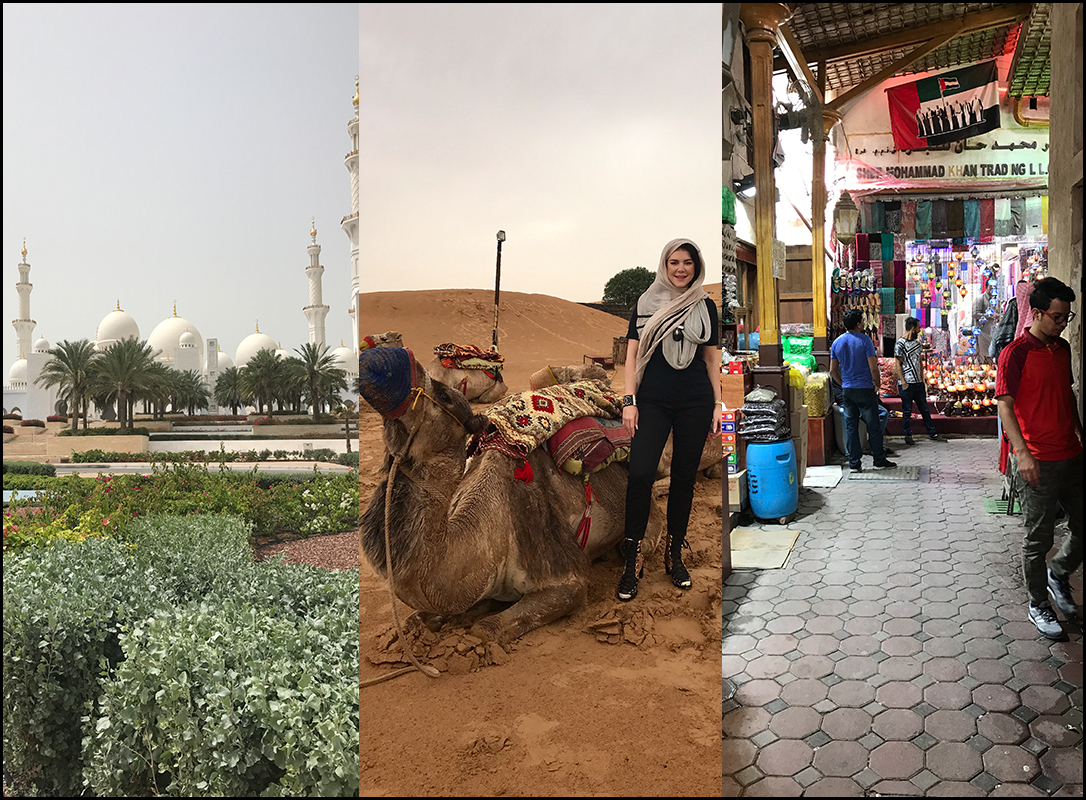 Dubai Mall
The Dubai mall is over the top just like Dubai and is also the largest mall in the world! They offer an aquarium and underwater zoo!
Things not to miss…
The Dubai Fountain, largest choreographed fountain show in the world and located on Burj Khalifa lake. The fountain show goes off with a breathtaking view of the Burj Khalifa behind it and the Dubai Mall on the side. After watching the show, head in to the mall and grab a fruit popsicle or some gelato at The Works.
Check out Level Shoes, a shore store dedicated to offering you the best shoes from top designers all around the world. From Manolo Blahnik to Nike, they have it all!
For a great wind down spot after shopping, check out the Armani Cafe, located in front of Louis Vuitton and Chanel. There you can sip some fruit tea and indulge in a sweet dessert.
For more behind the scenes, don't forget to follow us on Snapchat @ashleylaurenme
Old Dubai
This is great when you have a half day to tour around. It is a 30 minute drive out of the new city to the old city of Dubai. You can visit the markets, called Souks, where you will see many dried spices and salts. While walking, you will also see many workers in the trade business loading and unloading the ships. You can even take a boat ride. Dress casual and with comfy shoes, you will do a lot of walking.
Dubai Desert
Do you want a fun trip out to the desert? Book a desert safari and be prepared to drive up and down over dunes, ride a camel and eat some local food! This trip will be sure to put a smile on your face. Riding the dunes is bumpy, but you will get a check off your bucket list!
Sheikh Zayed Mosque
This requires a drive from Dubai to Abu Dhabi, the capitol of U.A.E. and it is a sight you don't want to miss. The mosque is so grand in size that pictures do not do it justice. This mosque acts as a key site of worship in the country. You must cover yourself when going in, headscarf and robe are provided if needed. Walk through to see the gorgeous tiles, carpets, stained glass. No detail is looked over and you will be excited to see it all in person. Pictures just do not do justice.
Burg Khalifa
This was an incredible site to see. You can enter from the Dubai Mall and purchase tickets to go nearly to the top with a faster elevator, called The Fast Track. You can opt for a private elevator to go up with a small group. That gets you into a private room, where they serve you dates and Arabic coffee, or gahwa as they call it. Then you will proceed to the elevator which will take you to the The Observation Deck on Level 148, which is the highest in the world. You can walk outside, feel the strong winds and look out with a 360 degree view of Dubai!