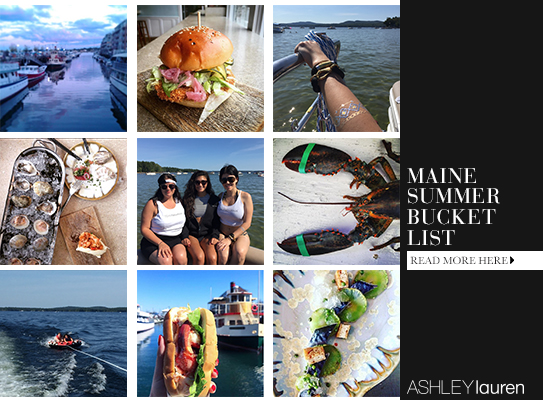 Nothing beats a summer spent on the coast of Maine! Whether you are spending the summer months oceanfront or just visiting for the weekend we put together a Maine bucket list so you can enjoy some of our favorite summer pastimes. Let us know what you think – and be on the lookout – maybe we'll bump into each other!
Soak Up The View:
If you're going to venture to Maine in the summer you have to spend at least one day on the beach. We love spending the day at Old Orchard Beach where you can lay on the sand and walk the coastline to the pier. The pier is full of restaurants and shops… you can't leave without trying some Pier Fries… or venturing into Surf 6.
Sail Away:
A Maine summer isn't complete without venturing out onto the water. Whether you're into sailing, canoeing, kayaking or water skiing Maine is the place to do it. We recommend heading to Lake Sebago for some water tubing!
The ASHLEYlauren team enjoying a day on the lake.
Eat Up:
Portland, Maine is home to some of the world's best restaurants. While in the area you have to indulge in some local seafood. Grab yourself a real Maine lobster roll and don't forget about the oysters and fried clams.
One of our favorite local spots is Portland Lobster Company. We often venture to deck during lunch and indulge in a lobster roll… or two… while soaking up the sun.
Photo cred: @portlandlobstercompany
Another one of our favorite spots is Eventide. Whether you are heading in for lunch or dinner – oysters always hit the spot.
Photo cred: @eventideoysterco