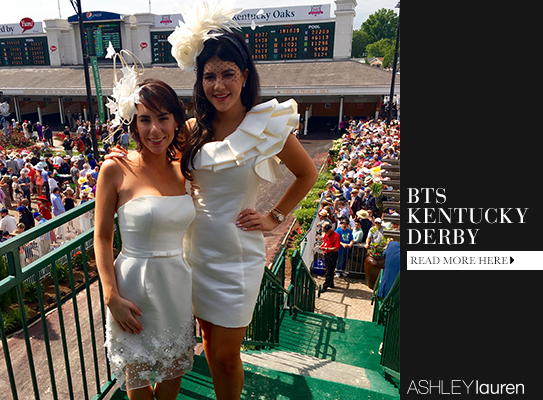 The Kentucky Derby is well known as "the most exciting two minutes in sports" and last year Ashley Lauren learned why! So, with this year's Derby right around the corner, we thought it was time she fill us in on all of the behind the scenes race day fun – and all of the weekend fun too. After all, the Derby isn't just about the horses; the men and women who attend love to get dressed up making the fashion just as important.
Last year, Ashley Lauren raved about the Unbridled Eve Gala and this year she bought tickets extra early. This is one Derby event you don't want to miss.
Unbridled Eve Gala, held at the Galt House Hotel, always has A-List performers and who's who of attendees walking the red carpet. Last year, the event organizers both attended in ASHLEYlauren dresses. If you want to rub shoulders with celebrities while donating to a great cause, this is the event for you!
The Kentucky Derby isn't just a day of racing, in fact the day before is just as fun! Friday is known as Oaks Day and all the ladies attending celebrate by wearing pink! The guys get in on the fun too- last year Ashley Lauren saw some men dressed in pink suits and others with Breast Cancer details on their jackets.
On Oaks Day, they sell special pink drinks… Ashley Lauren can't spill the secret recipe, but she does recommend trying one yourself.
On Derby Day, you will see so many fabulous hats and horse racing fans wearing some extra special outfits! Ashley Lauren and her sister wore ivory ASHLEYlauren dresses with custom Arturo Rios fascinators. Their dad had a horse in the race, so they were extra excited to get dressed up and partake in Derby Day!
If you are celebrating from home this year check out our blog for some yummy food and drink ideas!