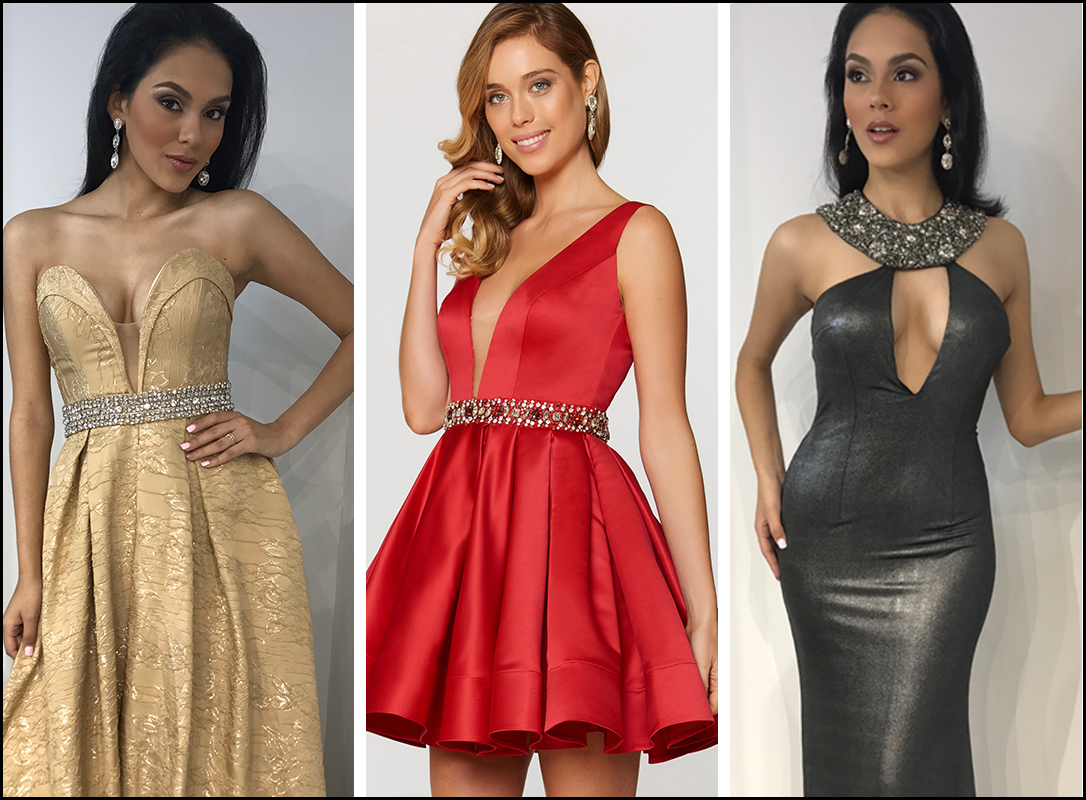 Fall is (un)officially here! Pumpkin spice lattes are flying out of Starbucks, we're wearing tall boots and oversized sweaters and are planning our pumpkin picking adventures… oh and did we mention new dresses have arrived! That's right – the start of fall isn't all about switching from iced to hot coffee, it's also about new arrivals! So, to make sure you're staying on trend all season long we've put together our top fall must haves. Get ready to start shopping! And guess what?! These new arrivals are already in stock. Click here to find a retailer near you!
Velvet
If it comes in velvet we recommend buying it… and this dress is no exception. Pair your velvet with pearls for a super classy, timeless look.
Shop Now:
Dress: Style 1302
Earrings: Miu Miu
Shoes: Marco De Vincenzo
Pewter
First on the list, pewter! You can kiss those summer gold accessories goodbye, this fall it's time to head in a darker direction. Not only is pewter going to be all the rage this autumn but it perfectly complements that deep red lipstick you've been waiting all summer to wear.
Shop Now:
Dress: Style 1261
Lipstick: Anastasia Beverly Hills
Shoes: Jimmy Choo
Fringe & Feathers
Looking to make an entrance this fall? Well, we've got the perfect dress for you. To wear this as the weather cools down pair it with a leather jacket. (P.S. This is the perfect boomerang dress – and when you post it make sure you tag us @ashleylaurenme!)
Shop Now:
Dress: Style 4002
Jacket: Balenciaga
Shoes: Gianvito Rossi
Red on Red
This fall we're thinking red… but not just for your dress, we're thinking red from head to toe! Update your favorite red dress by pairing it with red accessories and red shoes. You'll look super chic and fashion forward.
Belted
Don't leave the house without your favorite belt – and don't forget to wear it with your favorite jersey dress! Pair it with blingy accessories to complete the look.
Shop Now:
Dress: Style 1198
Belt: Michael Kors Collection
Earrings: Saint Laurent
Shoes: Stuart Weitzman
Ball Gown
A ball gown has never looked this good and we should know – we love ball gowns. Pair this one with gold accessories to accentuate the shimmery fabric.
Shop Now:
Dress: Style 1269
Earrings: Aurélie Bidermann
Shoes: Jimmy Choo