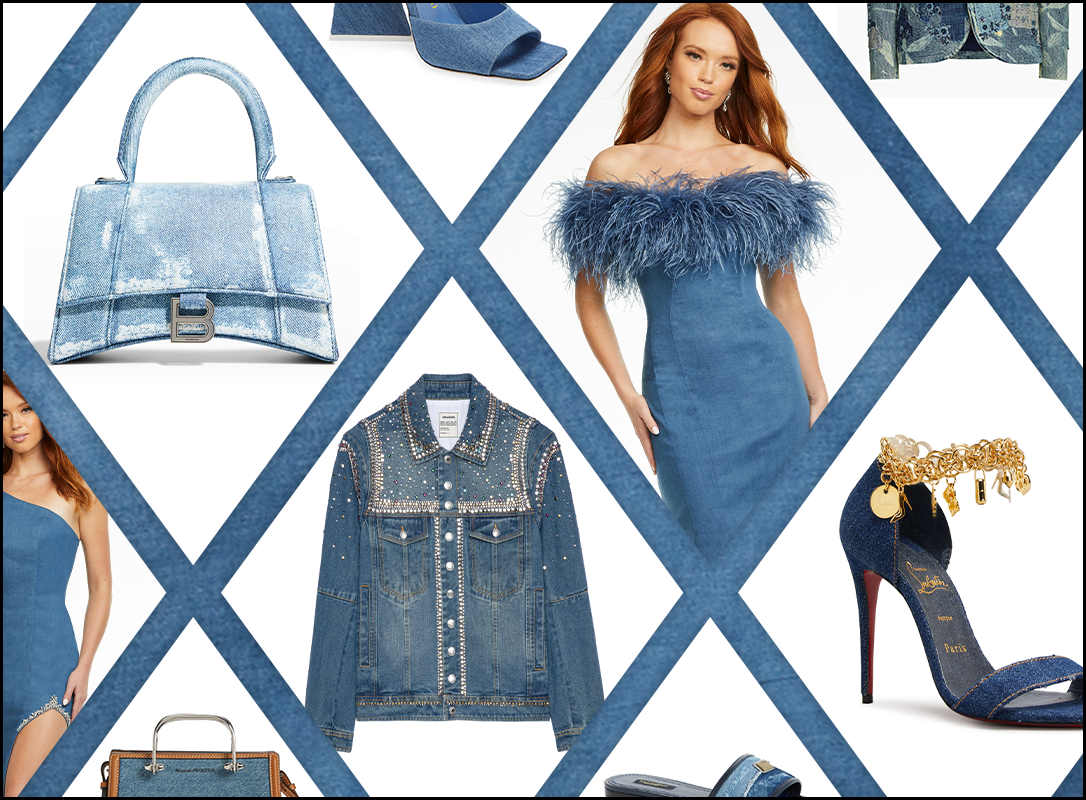 Trend alert: denim! Yes, we all know about Britney Spears and Justin Timberlake's iconic red carpet moment in 2003, but fast forward to 2022, this fabric has been modernized and revamped to be an oh-so-fabulous staple in your closet. Here's our favorite ways to wear denim this spring.
Denim Jackets
A classic piece in anyone's wardrobe. A good jean jacket can be added to any outfit and be worn year round. Here are our favorites with a modern twist.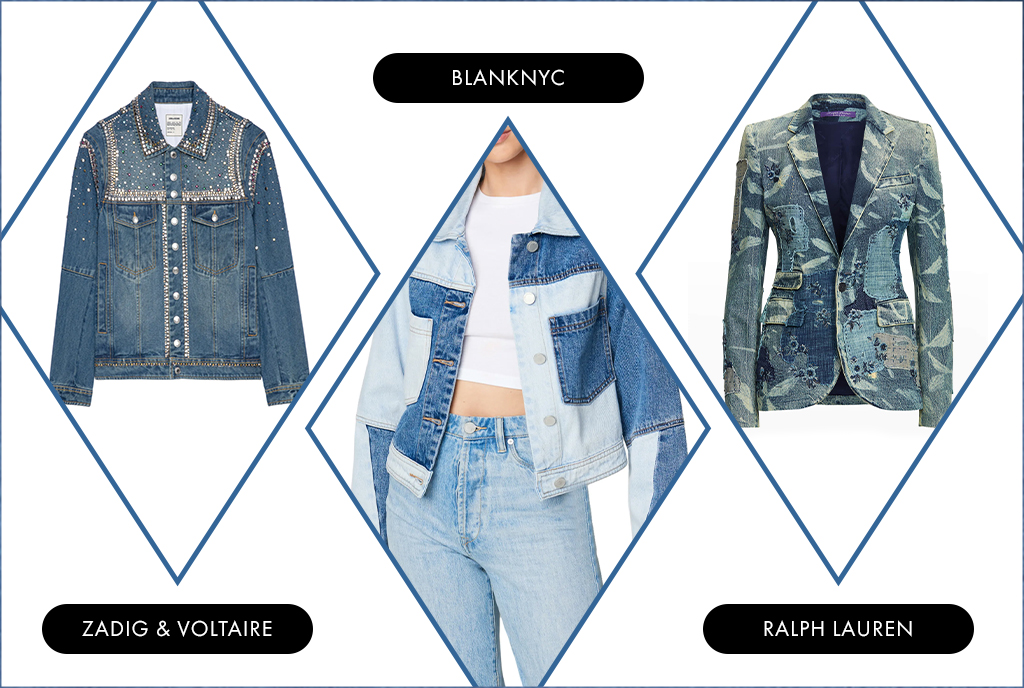 Rock & roll lives on! This Zadig Voltaire Killer Studs Denim Jacket adds the right amount of punk while still being trendy.
Light? Dark? How about both! The patchwork on this Blank NYC Trucker Jacket is the ideal in-between and can be dressed up or down. Love!
A different take on a classic. This Ralph Lauren Calan Patchwork Blazer is the perfect fashion-forward way to rock a denim jacket anytime!
Denim Bags
A good bag never goes out of style! Amp up your wardrobe with these dreamy denim pieces!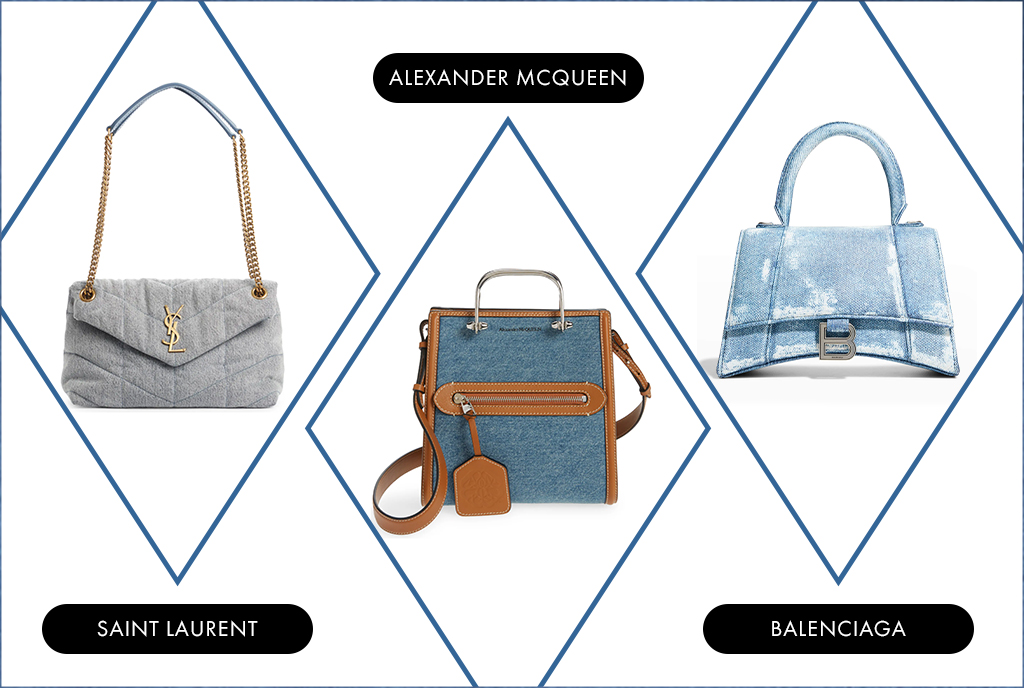 A classic YSL quilted bag, but make it trendy! The Saint Laurent Small Lou Denim Puffer Bag is the perfect staple accessory for any season. 
Need a more casual option? The Alexander McQueen Short Story Denim Leather Shoulder Bag will go great with any outfit, dressed up or dressed down.
For our chic gals, this Balenciaga Hourglass Small Denim Bag is just for you. This style of bag is in demand at the moment, and the denim makes it so fashionable.
Denim Shoes
No such thing as too many shoes! Here's our trending favs.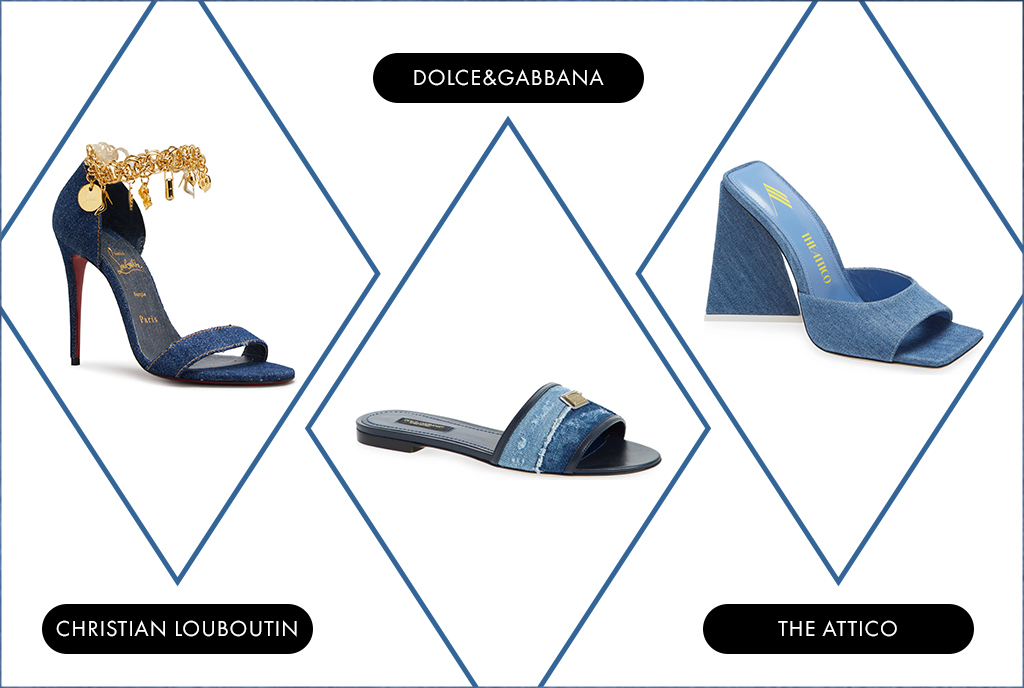 Gold makes everything better. These Christian Louboutin Gourmi 100mm Denim Anklet Sandals feature a built-in gold anklet with the cutest charms. So chic!
A sandal worthy of vacation Instagram pics! Pair the Dolce & Gabbana Sicily Denim Slide Sandal with a nice dress, or a casual fit for the ultimate fashion-forward combo.
It's never too much! These Attico Devon Slide Sandals feature a triangular heel to give an in-vogue, totally modern vibe.
Denim Dresses
Yes, we're obsessed too. These denim pieces are the perfect way to incorporate this hot trend at your next event!
This has got to be one of our absolute favorites. From the off-shoulder feathers to the uber-flattering stretch denim, this jumpsuit is a hit!
It's the gown for us, honey! This one shoulder, high-slit ensemble is the perfect way to dazzle in denim. 
Oh yes we did. This cocktail dress features off-shoulder tonal feathers and we're pretty sure we would wear this everywhere if we could.