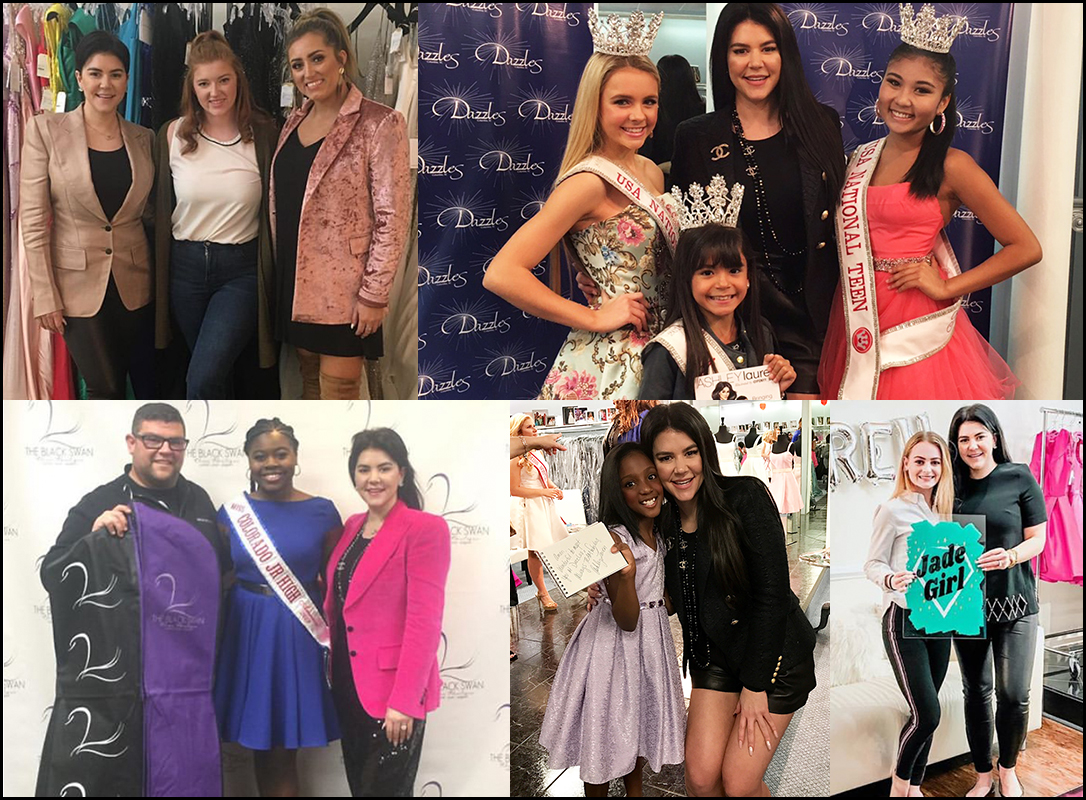 If you are competing in an upcoming pageant you might feel overwhelmed when it comes to wardrobe… especially because you need so many different looks. You will need an evening gown, earrings, interview dress and even a swimsuit or fun fashion piece (depending on the system). To prepare for the pageant, and make sure your look is cohesive, we recommend attending a designer trunk show. Many stores across the country host trunk shows year round for specific pageants and it is the perfect way to check all of your wardrobe needs off of the list. Here are my top 4 reasons why you should attend trunk shows to get that perfect pageant look.
#1: Access to the Newest Styles
When attending a pageant trunk show you can see the designers latest collection in person… sometimes before the images are released. This allows you to stay up on the upcoming trends. This early access gives you the chance to try on new styles and see what fits best and looks amazing on you! Whether it is a gorgeous new fabric, an intricate bead pattern, or an entirely new silhouette there are more styles to try on… and you never really know until you try it on. 
"Our favorite part of a pageant trunk show is seeing how excited the girls get trying on different styles and choosing the dresses that they feel great in. Nothing is better than experiencing that moment when our customers find the perfect dress!"
Chuck Cordill
The Dress Diaries, Lafayette, LA
#2: Working with a Pageant Stylist
Working with specialists in the store will guarantee that you find your perfect wardrobe. They will be able to help give you direction on what sillouette you should wear and what color will make you shine bright on stage. They will also know what style and type of gown works best for each system and age division. Trust us, an appointment with a pageant stylist will you feel confident and ready to head to your pageant with wardrobe that is perfect for you. Plus – at a pageant trunk show you may be able to work directly with the designer or a member of their team. Their inside knowledge on the collection will give you an advantage when looking for the perfect dress.
"We love hosting pageant trunk shows for the opportunity to bring in additional designs for our clients to try on the latest, often one-of-a-kind styles.  During our trunk show weekends we have clients who travel across the country to work with our team and meet designers like Ashley Lauren! We love being able to offer an exclusive experience to our clients.  By attending one of our pageant trunk shows, clients are able to see a wider variety of inventory and often newly released styles or one of a kind pieces. It also allows us to be able to custom create and sketch gowns, interview, and fun fashion pieces and ensure the perfect fit.  During trunk show weekends, we always have an additional selection of accessories available to truly make it a one-stop-shopping weekend at Ashley Rene's!"
Ashley Swathwood
Ashley Rene's, Granger, IN
#3: Meet the Designer 
Often times a store will bring a designer in during their pageant trunk shows. This is an extra special circumstance where you will get the chance to meet the designer and work one on one with their team to help select your pageant wardrobe. Getting advice from them will help make sure that you stand out. The designer will know what styles are best for your body type and which ones you should try on to truly make sure you shine bright on stage!
"As a new store owner, one of my biggest hesitations was hosting a trunk show alone. I was worried about not knowing all of the product information, price estimations, time turn-arounds, etc. However, with Ashley Lauren, everything was definite because she herself came! It was beneficial to me because it gave me the opportunity to learn a designer's language, understand her eye as to why she chose a certain silhouette or color for a specific body type, and ultimately, what they are capable of getting done for a customer! Being able to sell an ASHLEYlauren gown in the store with the certainty of knowing what I can and can't get makes me feel so much more level headed. While it was a blast having quality time with her in my store for my customers, it was extremely valuable for me as a new business owner as well.
McKenzie Jade
McKenzie Jade's, Concord, NC
#4: Custom Dresses
Not only will you get the opportunity to try on the newest samples and meet the designer but you can also work directly with the designer to create a custom dress. Many times the designer can bring in custom one of a kind pieces for you to try on, or if you're interested they can sketch something that can be made just for you. A design consultation is something most girls dream of. So why not make the trip and get the opportunity of a lifetime?
The opportunities of attending a pageant trunk are endless and a way to make your pageant memories even more precious. We suggest booking an appointment with a store near you today. For more information about our upcoming trunk shows please visit check out our upcoming events.
Chris Adams
Trunk Show & Pageant Coordinator 
ASHLEYlauren