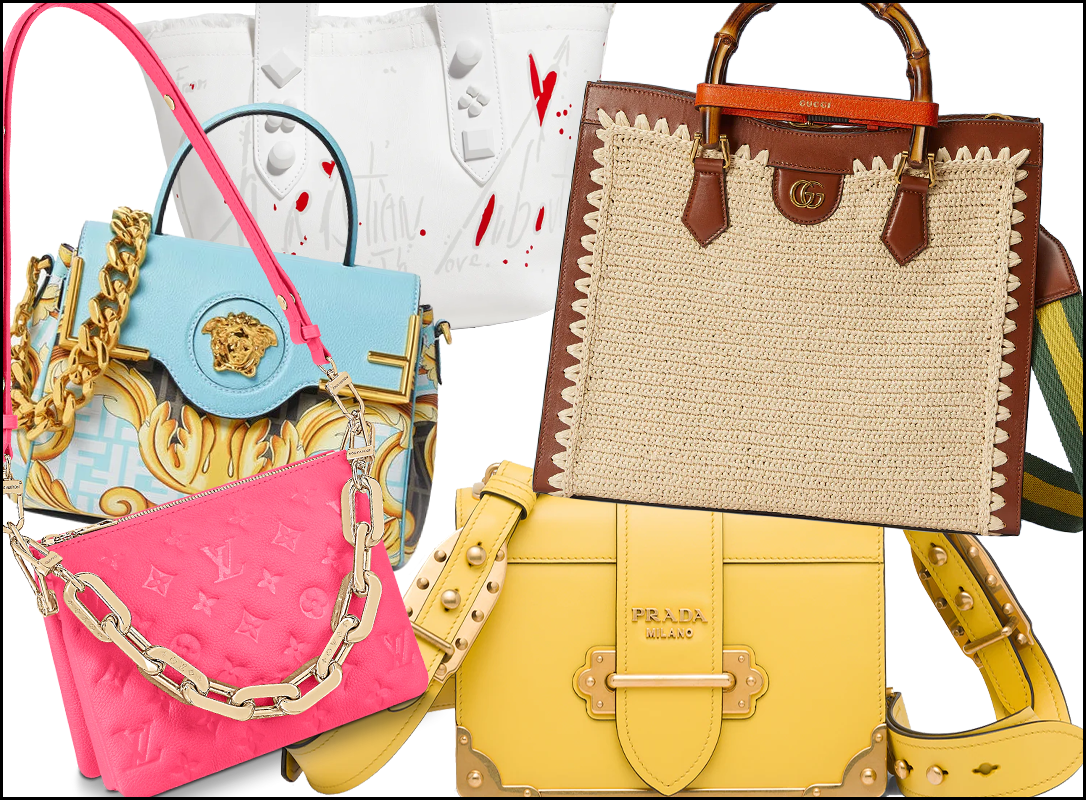 The type of purse a woman wears will say everything you need to know about them. Whether your personality is loud and bold or quiet and bashful, your bag tells the world what to expect. Here at ASHLEYlauren, we have made the search easy for you. Listed below are the top five predicted bags to make the biggest impact this summer. So as we like to say, it's time to 'secure the bag'.
Frangibus Typographic Printed Crossbody Tote Bag by Christian Louboutin

Not only is this bag #TEAMfabulous approved, but is the perfect bag for summer. Christian Louboutin designed this crossbody bag to have adjustable shoulder straps with flat leather top handles that have a purposefully designed studded trim. If this bag could talk, one would never get a word into the conversation. The perfect bag, indeed.

The Coussin BB bag is one of the newest drops for Nicolas Ghesquiere's LV Rose Fluo capsule collection. The gold colored chained and furrocious pink strap are said to "bring attitude to an already glamorous bag." Of course, here at ASHLEYlauren, you can never go wrong with pink!
Diana medium tote bag by Gucci

The Diana medium tote bag is here to make a statement. This handbag shows the bright and colorful restricted motifs that demonstrate the uniforms worn by the horse riding jockeys. Not to mention, the bamboo handles were brought back from the one of a kind vintage collection. If you love this style as much as we do, secure the bag honey!
Sunny Yellow Cahier leather bag by Prada

Prada gave its audience an ancient, chic bag that is serving the looks. This bag is originally known for its sophisticated monochromatic look, but was brought to everyone in the new sunny yellow color. If this bag is not screaming summertime, then what is?
Fendace La Medusa Medium Handbag by Versace
The Fendace collection is taking the world by storm. Finally, the two most epic designers bring a glimpse of heaven into the world. The Designer Donatella Versace and Kim Jones put a spin onto La Medusa bag by using the Fendace gold Baroque print. This versatile bag can be held in hand or used as a crossbody.